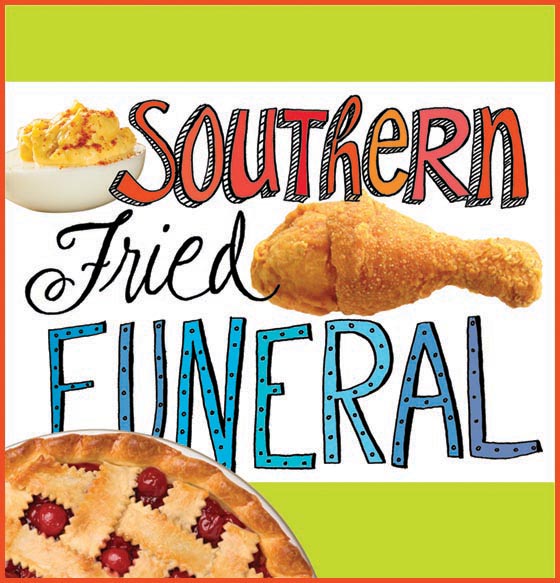 Auditions for our spring production of the comedy, Southern Fried Funeral will be January 30 and 31 at 7:00 PM at Carysbrook Performing Arts Center, with call-backs on February 1. The performance dates are April 22, 23, 28, 29, & 30. Auditions require no memorization, just cold-reading from the script.
"Dewey Frye is dead and the rest of his family is left to pick up the pieces — that is if they don't kill each other first. Not only does matriarch Dorothy have to contend with sudden widowhood, but she's also faced with church-committee harpy Ozella Meeks sticking her nose in the family business, Dewey's snake-in-the-grass brother making a grab for her house, and two grown daughters reliving their childhood rivalry. Funerals bring out the worst, the best, and the funniest in people, and the Fryes are no exception. A big-hearted comedy about family — Southern-style."
Cast of Characters:
DOROTHY FRYE, 50s/60s, Dewey Frye's widow and the matriarch of the family.
SAMMY JO FRYE-LEFETTE, 30s, the middle child and future president of the Junior League.
HARLENE FRYE, 30s/40s, the oldest child and prodigal daughter.
DEWY FRYE, JR., 20s, the youngest child and not the brightest bulb.
DUB FRYE, 50s/60s, Dorothy's brother-in-law.
ATTICUS "ATTIE" VAN LEER, 30s/40s, family lawyer and on-again-off-again love interest of Harlene.
BEECHAM LEFETTE, 30s, Sammy Jo's husband.
MARTHA ANN FOX, 50s/60s, Dorothy's best friend, first name pronounced "Marthann."
FAIRY JUNE COOPER, 50s/60s, contemporary of Dorothy and Martha Ann; they've been friends since high school.
BENNY CHARLES GREENWOOD, 50s/60s, best friend of Dewey Frye, Sr.
OZELLA MEEKS, 60s/70s, chairwoman of the SonShine Committee at the church, a position she does not take lightly.